Become a Bubs + Bellas VIP!
Join our VIP email list to get access to our BEST deals!
Meet Brielle!
She is 4 years old and fighting stage 4 Neuroblastoma Cancer. She has inspired many, including us. In her honor, we have decided to team up with YOU to help more kids like Brielle. Anytime you purchase a Bubs + Bellas beanie we also donate one to a child fighting cancer or other life threatening illness. You can nominate a child for a donation by emailing us at bubsandbellas@gmail.com. Follow Brielle and her journey on Instagram HERE. UPDATE: Thanks to all of you we have completely sold out of our Mini Pom Pom Beanies. We have very few of our Striped Pom Beanies left. We will continue to donate beanies until they are sold out!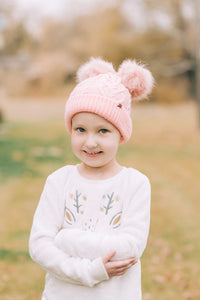 Welcome to the B+B Fam!
Started by a Mom and her three daughters, Bubs + Bellas products were made for all the adventures your little ones will go on! We never sacrifice quality, function, or style!